In addition to mentally preparing to go back to work tomorrow (we've had two inclement weather days plus the weekend), I'm also started a daily devotional journey that I've heard SO MANY fantastic things about: 100 Days to Brave. I've been searching for so long trying to find a daily devotional that I can apply to my life and I think I've found it!
These devotions begin with a Bible verse, a quick story, and a call to action – exactly what I need in my life. Today's Bible verse is one of my favorites from Isaiah, "For I am the Lord your God who takes hold of your right hand and says to you, Do not fear; I will help you." (Isaiah 41:13)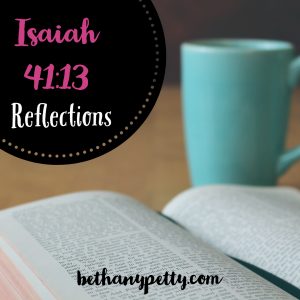 This verse resonates with me for so many reasons … let's break it down:
First, God is telling us not only that He is the Almighty, but also that He is OUR GOD. Our God! Just think – the Creator of the universe is OUR GOD. How cool is that?
Second, God tells us that He will guide us and help us throughout our journey. Again – the God that created everything will be with us throughout our life. This reminds me of another favorite verse from Joshua 1:9, "Have I not commanded you? Be strong and courageous. Do not be frightened, and do not be dismayed, for the Lord your God is with you wherever you go." He doesn't tell us that it will be an easy walk in the park with rainbows and butterflies and glitter, but does give us the reassuring fact that He will be there with us.  WOW!
This leads me to the third chunk of this verse, "Do not fear; I will help you." All of the  "do not be afraid" verses in the Bible are so comforting to me because I am an anxiety-ridden worrywart. If there's something to worry about, by golly I'll get right to it. Yes, I've heard the saying that worrying is about like sitting in a rocking chair – it gives you something to do, but doesn't get you anywhere. I KNOW, but that doesn't help the worrying. However, repeating verses like Isaiah 41:13, Joshua 1:9, and Matthew 28:20 (And teaching them to obey everything I have commanded you. And surely I am with you always, to the very end of the age.") certainly help calm down this worrier.
Have you read 100 Days to Brave? Let me know your thoughts!
Thanks for reading 🙂